Just a minor housekeeping note before getting started:
If you're having issues commenting can you please message me on Twitter or shoot me an email at cowgirlruns[at]gmail[dot]com and let me know? I'm obviously still working out some of the kinks and it appears some of them are….kinkier…..than others. I disabled OpenID yesterday and I think that fixed most of the issue, but if you're still having problems please let me know!
I'm also told the issue with the RSS feed and Feedly should be fixed. It looks like it was an issue with WordPress and not me, so yay! 🙂
Good morning (or afternoon or evening) and happy hump day friends!
Before I get into the meat of the post, let me tell you, this is a big one. On top of the regular old Wednesday eats, I also have a recipe for you and a giveaway!
BAM!
If that doesn't cheer you up, I don't know what will 🙂
I may have mentioned in once, or twice, or even a million times, that I live alone. Given that, I find some days it can be a struggle to balance eating healthy, having a reasonable grocery budget and not spending one hundred million hours in the kitchen.
In an attempt to balance out these three factors, I do my best to utilize some convenience items where ever possible, and I wanted to highlight some of those for you. You already know that I live by the rule of balance, so while some of these items may not be the healthiest, I find they match my food philosophy quite well.
Dinners
Bagged salads are probably one of my favourite convenience food items. Sure, I could buy all the veggie items separately, but to be completely honest, I probably wouldn't spend the time chopping them up, so buying bagged salads and adding a protein (I like individually frozen chicken breasts of tenders) makes a pretty tasty dinner.
Saturday evening I added some chicken and called it a (freaking) delicious dinner!
Breakfasts
Five days out of the week I have a smoothie for breakfast. I buy frozen berries and some kind of green and put them into baggies. I started making smoothie packs a few months ago and haven't looked back. While it doesn't take long to get everything together for a smoothie, I find being able to open a bag and dump just makes mornings much easier.
On weekends I like to be a bit fancier with my breakfasts. Since buying my waffle maker, I've been on a waffle kick. But….I'm lazy. So instead of worrying about measuring out a ton of different items to make waffles, I buy a pancake/waffle mix and just add milk and an egg and I'm good to go!
I took full advantage of my waffle mix on Sunday after my race and made waffles with bacon and watermelon. Now, being one person I'm probably not going to eat an entire watermelon in a couple of days, so I managed to find 1/4 of a melon at the store. Normally I'd wait until they were more in season, but the idea of watermelon as a post race treat was just too tempting.
I'm also super lucky to have an amazing meat counter at my grocery store where I can buy individual slices of bacon!! Again, I'm not going to eat a package of bacon in a reasonable amount of time (well, I could, but I might regret it) so being able to buy two or three slices of bacon at a time is pretty awesome.
Yeah, Sunday's breakfast pretty much rocked my socks off.
Lunches
I may or may not have mentioned this a hundred million times already,but I struggle with lunches. A lot.
If left to my own devices (aka – I have nothing in the fridge for lunch) I'll go out and buy lunch every single time. For obvious reason (financial and health) I try to avoid buying my lunch by spending some time in the kitchen over the weekend cooking up a bit batch of…..something.
I'll usually budget 4 lunches of whatever I make as I'll usually end up meeting with a friend, or treating myself with a massive sammich for not killing anyone at some point during the week.
This brings me to my recipe!
Mexican Lasagna
2014-04-28 21:56:11
Serves 8
A healthy and tasty lunch option
For the filling
1 1/2 pounds ground chicken
2 cloves garlic
1 onion, diced
1-2 bell peppers, diced
Cumin, to taste
Mexican Seasoning, to taste
1 can diced tomatoes (I use chili spiced)
1 can corn
1 can black beans, drained and rinsed
2 cups salsa
1/4 cup cilantro, optional
For the layers
4 tortillas
2 cups shredded cheese
Instructions
Preheat oven to 375.
For the filling
In a large skillet brown the ground chicken with garlic (I used jarred).
When the chicken is 3/4 done cooking add in the onion and peppers and saute until the onion starts to soften.
Add the cumin and mexican seasoning to the chicken, onion and peppers and stir.
Add the diced tomatoes, corn and black beans.
Stir all ingredients together and allow to cook for 3-5 minutes.
Add the salsa to the mixture and cook for 5 minutes until the mixture starts to bubble.
If using cilantro, stir into the mixture and turn off the heat.
To assemble
Spread 1/3 of the filling mixture on the bottom of a large casserole dish.
Top with two of the tortillas. Cuts and position the tortillas as needed to cover the mixture and fit in the dish.
Spread 1/3 of the filling on top of the tortillas.
Top with 1/3 of the shredded cheese.
Top the cheese with the remaining two tortillas.
Spread the remaining filling on top of the tortillas and top with the remaining cheese.
Cook for 20 minutes until cheese is bubbly.
Cut into 8 portion for lunches, or 6 for dinner.
Notes
This recipe is easily adapted based upon what you have on hand. Feel free to use extra lean ground beef or ground turkey in place of the ground chicken.
Try experimenting with different salsa and spices depending on your personal tastes.
Adapted from Eat, Shink and Be Merry
Cowgirl Runs http://cowgirlruns.com/
Snacks
Last, but certainly not least, come snacks.
I love to snack, but find I can easily (too easily) gravitate toward unhealthy options.
Enter Simply Protein!
Both the Simply Bar and Simply Protein Crunch are made with minimal ingredients and none of those crazy weird ingredients. The Simply Bar is dairy free, gluten free, vegan and kosher. Oh, and totally delicious. Simply Protein Crunch absolutely freaking delicious and amazing.
Since Wellness Foods was so generous and sent me a ton of goodies, I want to share them with you! As awesome as it is to be partnered with kickass companies, I wouldn't have this opportunity if it wasn't for my amazeballs readers, so I'm going to share the love with y'all.
[Tweet "Looking for some ways to eat healthy and not take up a ton of time?"]
Two winners will receive two bags of Banana Caramel Cashew Simply Protein Crunch and two Maple Pecan (totally Canadian, right?!) Simply Bars. Just enter using Rafflecopter below – the giveaway will be open for one week and I'll announce the winner in next week's WIAW post.
Note: limited to Canada and the US because shipping is expensive, yo.
Disclaimer: the goodies were provided to me free of charge by Simple Choices for being a Wellness Partner with them. I was not obligated to post or review the product and all opinions are my own. If I thought they tasted like garbage – I'd totally tell you. 😉
Tell me: How do you balance healthy living and convenience?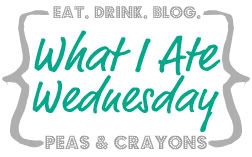 I'm linking up for WIAW because, whew, that was a lot of food. Now – go grab yourself a snack! 😉

Disclaimer: Posts may contain affiliate or referral links. Your support is appreciated. Thank you!